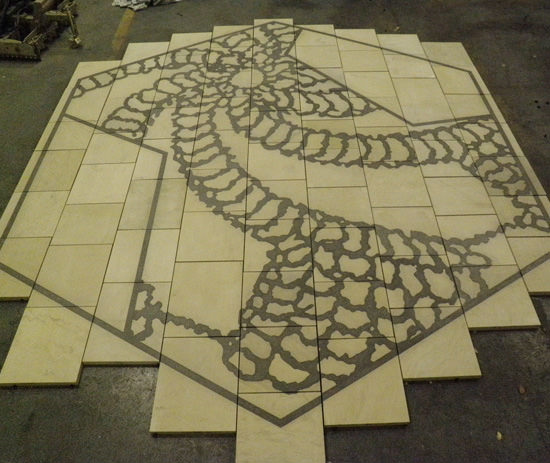 Mac building
The new mac re-opened in Birmingham on May 1st 2010. The refurbished art centre includes an audience development building design commission where I proposed and worked with participants from the charity organisation the Bosnian Cultural Centre Midlands.
The commission can be seen throughout the building in three design forms:
A bespoke carpet covering the first floor public circulation areas and meeting rooms
A routed design in the wood panelling of the Bridges Café Bar
A stone inlaid floor tile pattern in the main entrance foyer
The design involves a dialogue between traditional and computer driven craft design, translating patterns made by hand-done crochet into digital templates that can be applied to a selection of architectural surfaces. The designs meticulously keep their hand-done quirkiness during the translation to digital form which contributes to the individual and human nature of the outcomes.
The design was given the name of Sijelo, a Bosnian word meaning: a collective of people coming together to engage in crafts and making. Many of the BCCM members can remember taking part in this act of meeting with friends and family to weave carpets or crochet tablecloths. The British equivalent would be knitting 'Bee', an old term, which describes a group of people coming together to knit. Inspired by the BCCM members, the recurring design feature of a hexagon connects mac's unique Hexagon Theatre with the geometric form used widely in Islamic and Bosnian traditional crafts such as carpet weaving, crochet, embroidery and woodcarving. A link is also made between the hexagon shape and the bee; a structural form used to create the cells of a beehive honeycomb which makes efficient use of space and building materials.
The group met regularly throughout the process of making to run practical art workshops, using many visual influences, they cut paper shapes and crocheted patterns including the lily flower – a historic Bosnian symbol. These patterns and shapes were then scanned into the computer and further manipulated to create a series of designs. The final design for the carpet takes into consideration the ground plan of the new building and is designed to the unique layout of the mac.
The carpet was woven by Brintons Carpets, a well-known family-owned British company established in 1783. The artist and the BCCM group attended several tours of the company's Kidderminster factory to learn about the process of machine carpet weaving and to oversee production. The design process also included visits to a cnc router workshop in Bristol and a stone quarry near Halifax.
The mac audience development proposal came out of an existing working relationship with BCCM, working together on Project B, avlija in 2007 and sebilj in 2008.